Websites and online technology platforms can be a large investment. For many sales associates and real estate brokerages, your online spend can be a considerable portion of your annual expenses. Having a stunning website with an integrated CRM platform and ongoing digital marketing strategies is an extremely worthwhile investment that can pay huge dividends to your firm. Some of our clients attribute that more than 30% of their closed transactions originated from their website and ongoing online strategies. That said, sometimes managing these strategies just isn't in the budget.
What most real estate firms haven't taken advantage of is how to effectively manage your online technology platform as a tool to open up new revenue streams. I don't mean in the traditional way of generating new business or recruiting new agents to your company. Many real estate platforms today, including the DeltaNET, offer integrated strategies revolving around advertising other partners affiliated with your company.
To offset the cost of your online technology platform, I heavily recommend looking into opportunities with your partners, or with other companies that compliment what you do in your local market, as a source of new income. I know of clients working with Delta Media Group that leverage their website successfully as a marketing tool where local mortgage companies, builders, relocation companies, and more have paid to be advertised directly on our clients' websites.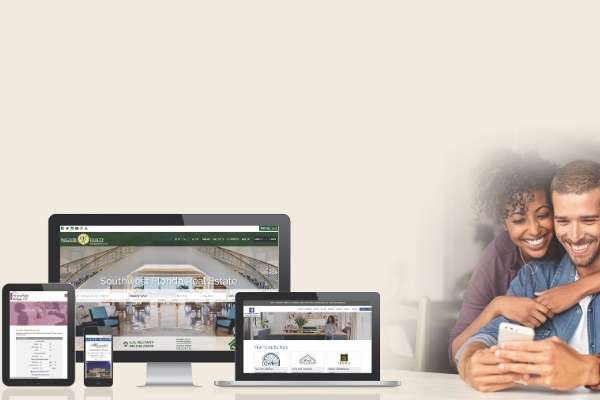 In this article, I'd like to share a couple of different monetization strategies that our clients are leveraging today to offset the cost of their website platform. Each of these will be a real-world example, to share ideas on what type of money you could be saving, and re-investing into other advertising strategies, leveraging your website.
Advertise affiliated mortgage companies.
There are several opportunities throughout an integrated technology platform to be able to advertise mortgage companies. Inside of our platform, we offer capabilities to tie mortgage users and mortgage logos directly on our listing detail pages. When a consumer is looking at a property, they can use a real-time mortgage calculator to see what their costs would look like if they moved forward buying the property. This is a great tool to drive users to fill out contact forms to convert into a potential buyer lead or a mortgage lead.

Also related to advertising mortgage firms, we can tie questions related to mortgages directly to our Open House Connector App. Whenever an associate is conducting a physical open house, a series of questions can be asked to the prospect when they are signing in to the open house. Some of those questions are standard, such as: "Are you already work- ing with another agent?" Or "What do you think of the curb appeal of this property?" One popular question to ask a client at an open house - "Are you pre-approved for a mortgage?". Based on how users answer different questions, they are dropped into various follow-up action plans.

In the two examples listed above, leads are being generated that can be sent directly to the mortgage company. One of our clients has a mortgage firm spending more than $2,000 per month as the featured mortgage company on their website. They were able to leverage this deal by showcasing how prominently their logo would be featured on the website and the total number of leads coming into their website regularly. When attempting to leverage your website as a marketing strategy for other companies, such as a mortgage firm, it is vital to know the total traffic coming to your website, and the ballpark volume of leads you generate. In this case, the brokerage website had an average of over 300,000 page views on their listing detail pages, and homepage, in the last 12 months.


Advertise local builders that do business in your marketplace.
Several all-in-one platforms give you the ability to build landing pages for specific builders displaying their contact in- formation, data about the communities they build homes in, and even showcase specific model homes with floor-plans an all. Interactive community landing pages with interactive plat maps can showcase which types of properties can be built inside of specific developments, and more.

These builder landing pages are a great way to build out content on your website, and make you look like even more of an expert in your community. By establishing relationships with multiple builders, you can advertise a variety of home builders, their communities, and model homes, all while being paid by them to have this great fresh content on your website. In one instance, we have a client spotlighting 12 builders on their website. Each builder pays $100 per month to be featured on the website--that's $14,400 per year being paid to our client just to leverage a feature in their web platform. In this example, the brokerage was seeing more than 4.5 million page views of their website each year.


General advertising through banner ads or other means.
Banner ads are typically the most popular method of monetization on a website. MANY firms showcase partners on their homepage either "above the fold" in a partner's logo showcase or near the footer of each page of their website. These are very popular for affiliated title partners, insurance, home warranty, etc.

Look for opportunities to showcase these logos throughout the website. Typically the logo would be clickable and link the user directly to a content page on your website with more information about the partner service. From that content page, you could link to the partner's website directly. One common place we often see "banner ads" is just above the search results pages on your website.


Think outside of the box!
Your website is a significant part of your online brand, but there are often other tertiary marketing strategies you may be employing. One component of our services to our clients includes automatically generating listing videos for Facebook and our clients' websites. The service is called Properties in Motion, and one of the things the system does is generate a 90 second HD video showcasing the first 21 photos the agent entered at the MLS for the property. It also utilizes Google's Cloud Speech API for automated voice over of the property details.

One of our clients had us insert an intro slide for their videos saying, "this video sponsored by " and had our voice over read the message as well. They were able to take their listing videos and make it sponsored by a local partner who was spending $300 per month on the promotion. The videos were being viewed more than 20,000 times each year.


The traditional method of referring leads.
For websites that have fantastic SEO, you will often receive leads from customers looking to move to a property they found on your website. If you are generating leads for houses that aren't in your immediate service area, don't just let them go to waste! I know of many brokerages who have built a solid referral strategy where even though they are based in Mansfield, Ohio (about 1.5 hours south of Cleveland, 1 hour north of Columbus), they are generating a huge amount of business in those two metro markets. Although the brokerage in Mansfield does not service those markets, they make a killing on referring those leads out to other brokerages and recouping a nice referral fee.
Just because the lead isn't in your core service area, doesn't mean it's a waste of time. Building up those relationships with other brokerages is good for your own referral strategies, as well as a way of monetizing leads that are being dropped in your lap. It's one of the many benefits of properly conducting a targeted Search Engine Optimization strategy on your website.
These are just a few of the dozens of various ways I've seen some of our more in-tune brokerages leverage their website to offset the cost of managing and maintaining their website. If you can break out of the mindset that your online technology platform is something you just sink money into and switch that thought process into leveraging a platform you're spending money on to generate new business opportunities, and I don't just mean "leads," then you'll unlock a potential business resource you never knew you had.