It is not often that an agency like ours is able to maintain clients for several decades. In the "Software As A Service" world, it's easy for customers to come and go as tech providers "leapfrog" each other with features and other flashy offerings. At Delta Media Group, we've been blessed to not only stay in this industry through two different recessions and remain profitable every year we've been open dating back 25 years but also, that we've been able to nurture relationships with several real estate brokerages that have lasted a generation.
In my role as a sales professional, I've often been told, "I don't want to have to make another move for at least 10 years. We're ready to settle down." I've also heard prospective firms tell me they couldn't imagine making a move because they're so happy with their provider – it's like they're married. It got me thinking a bit about some of our longest-standing partnerships, and what their stories are like. Can you imagine finding the right tech vendor and feeling comfortable enough to stay put for more than 20 years? You'll find below three distinct stories from brokerages who have done just that.
Cressy & Everett Real Estate
175 Sales Associates Servicing Northern Indiana, and Southwest Michigan
We invited John De Souza, President of Cressy & Everett Real Estate, to sit down with us to share a bit of his experience over the years with Delta Media Group. We asked John to give us a quick overview of both what it was like to select a tech partner in the late 1990s, and what has made him continue that partnership with Delta Media Group for more than 20 years.
John began our interview by saying, "In the early days of the web, choosing a vendor was a much simpler task. There were only two or three options on the market that could accomplish what we wanted, which was to place our property listings and their photos on a webpage.
"At the time, Delta Media Group was known as 'TigerFly,' and was selected as our provider because we could see the team was the pioneer of this newer industry, and the first firm to be able to provide searchable listings and photos powered by MLS data on a website."
John continued, "Delta has always been able to take the 50,000-foot overview of the industry, and not just of the technology side but also of the consumer perspective, which unfortunately is something that is often forgotten."
"One thing that Delta did for us early on was to introduce agent-branded websites that better served their customers. Thanks to Delta, our agents offered meaningful websites that promoted a strong and positive online presence, far before any of our competitors."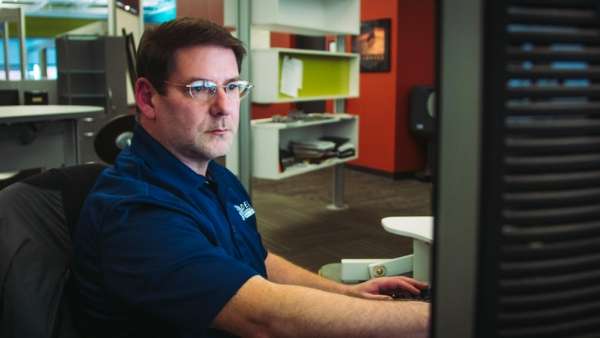 "At a certain point, Delta became more than only our website provider. You also became our central data provider. Sean Garaux, the Data Manager at Delta since 2000, is a well-known and respected icon in the MLS Data arena. When you talk about listing data, nobody does it better than Delta. Having served on the board for RESO, I've heard a lot of stories about data issues, so trust me when I say that it says a lot about your team to be great with listing data accuracy and speed. Cressy & Everett Real Estate has been able to conserve resources and work smarter by having Delta manage all of our data over these past 20 years. Not only does Delta make data live faster than anyone else, you're also the most accurate and reliable data aggregator that I've seen in the industry."
We asked John how Cressy & Everett Real Estate has differentiated itself in today's competitive market. He replied, "Our Cressy & Everett team distinguishes ourselves in our market by offering cutting-edge technology with not only websites and CRM, but with all initiatives and services. Even when we are not using tools developed by your team but choosing to outsource some elements to third-party providers, Delta can make the sharing of data a frictionless experience, thanks to your open API platform and Google authentication/SSO services. One example of this was when we were becoming one of the first brokerages to adopt Matterports 3D virtual tours. Delta created an automated process for our associates, so there was absolutely no extra overhead, time, or management needed to deliver a great consumer experience. While it wasn't a Delta product, your team understood the systems and integrated it so well that it consistently works flawlessly."
Finally, John discussed with us his primary technology focus moving into 2020. "It's all about usability and adoption. These two things go hand-in-hand. It used to be that brokers didn't care what the adoption looked like because they knew their agents weren't going to use it very much. That's not the case today. If real estate firms are honest with themselves, the technology they roll out needs to be more than just checking a box, 'yes I have this,' but rather be something that they are confident their sales associates can easily integrate into their daily workflow to gain the results they want."
Our interview concluded with John sharing, "The word 'platform' is such an overused term, and has lost a lot of its meaning over the years, but here's the truth about data and service platforms: What you've built at Delta is a true technology platform. What we originally believed we needed from a vendor back in 1999 was a partner who could put our listings online. Over the last 20 years, though, Delta has grown from a searchable listing website to a complete hub where a brokerage can manage their entire business in one unified location. Personally, I can't wait to see what you come up with next."
Wardley Real Estate
415 Sales Associates Servicing the Las Vegas Valley
Like Cressy & Everett Real Estate, Wardley Real Estate has been a partner with Delta Media Group since 1999. As one of Delta's original clients, Wardley has had a unique perspective with online technology. Jeff Sommers, President of Wardley Real Estate, and Karmen Gano, Executive Assistant at Wardley Real Estate, shared a bit of their story.
Wardley Real Estate entered the Las Vegas market right before the big real estate boom and has not only survived the wild ride but has thrived in an ever-changing dynamic market. Our success is based on a simple concept: Do what you say you will do, never less, but often more. Delta Media Group has also lived that mantra since we started using their services two decades ago.
Las Vegas, Wardley's core market, was hit particularly hard by the great recession through 2008-2010. Karmen shared that many, many firms went out of business doing those turbulent years, and their team needed to be creative to stay strong and weather the storm. A huge part of their marketing efforts came from a strong digital push and making themselves the definitive choice for finding real estate through digital strategies. Excellent customer service gave them a strong advantage over their failing competitors.
Wardley adopted Delta's industry-leading SEO and digital marketing solution. In 2019 alone, the total new users coming to wardleyre.com rose by nearly 20%; they saw hundreds of thousands of visitors on the website and generated thousands of lead opportunities.
Even though the Las Vegas market slowed in 2019 compared to 2018, total leads were still up 8%. One of the main reasons the partnership between Wardley and Delta has remained so strong over the years is not just the innovations in technology, but also the emphasis on ensuring high-quality marketing efforts are being executed correctly.
Old Colony, REALTORS®
165 Sales Associates Primarily Servicing West Virginia
Old Colony, REALTORS® came on board with Delta Media Group in 2003. Unlike Wardley and Cressy & Everett Real Estate, they were not one of our first clients; however, they have been one of our longest-standing, independent partners. Old Colony is the largest independent brokerage in the state of West Virginia, and their Executive Vice President, Tommy Dunbar, had a specific story in mind he wanted to share.
"Delta was our first 'professional' website back in 2003. We're a company always looking to take advantage of the next best thing, so evaluating new technology offerings often was important. After being partnered with Delta for several years, we found a technology offering from a different vendor that intrigued us. We ventured away from Delta only once, moving to that new platform for exactly two years... just long enough to fulfill the original contract. It didn't take us long to realize that we had made a huge mistake."
"That was more than 10 years ago. Since our return to Delta, we have relied on Mike Minard and his qualified team to provide all of our online web services and heavily collaborate for our digital strategies. The programming and support staff are always available to discuss enhancements and ideas."
"The training services are also top-notch. One huge benefit we get from Delta is on-site training every few years to keep our team engaged and knowledgable about new additions to the platform. Since Delta's corporate office is in Canton, Ohio, they're only a three-hour drive to Charleston!"
"As our industry continues to evolve rapidly, Delta has exceeded our expectations with their ability to stay ahead of the game. We have a partner we can trust, and one that truly has our business in mind."