Real estate firms from across the country are investing in CRM software
As sales associates, meeting new people and hearing their stories is one of the best things about the job.  
On the flip side, managing leads, sending follow-up emails, and remembering appointments can be a pain. That's especially true if you're trying to get the job done without using customer relationship management (CRM) software.
CRM software provides sales associates with an automated platform to expedite routine processes and stay in touch with clients and leads. They are proven assets for real estate firms and sales associates. 
One such firm is Old Dominion Realty, located in the Eastern West Virginia and Central Virginia Shenandoah Valley real estate markets. Old Dominion Realty joined forces with Delta Media Group in 2008 as an online marketing partner.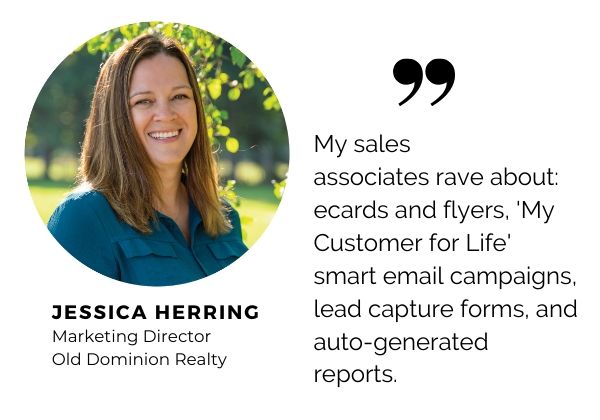 We sat down with Jessica Herring, Marketing Director at Old Dominion Realty, to discuss how Delta Media Group's CRM solution, Pipeline Manager, makes staying in touch with prospects easier.
How has the Pipeline Manager helped your team manage their relationships with clients and prospects?
Pipeline Manager's automated system, ease of use, features to keep us organized, and easy cross-device access is perfect for our busy sales associates on the go. It makes their jobs so much easier. 
How have the features of your dashboard helped to train and coach new sales associates?
It takes into consideration various aspects of their jobs as sales associates. However that magic of yours works in the DeltaNet®, Pipeline Manager gives them help and guidance along the way in areas where it's needed. Pipeline Manager takes away their worries about every day, back-office functions. It lets them get back to finding the right homes for buyers or the right buyer for a client's home.
Which features of Pipeline Manager do your sales associates use most to keep in contact with their clients?
My sales associates rave about: ecards and flyers, 'My Customer for Life' smart email campaigns, lead capture forms, and the auto-generated My Home Finder, Market Watch, and Seller Reports. The Seller Reports are a HUGE time saver for our sales team. Seller Reports are one of the most popular features of your CRM system. It compiles all of the activity regarding a particular listing and sends it to the seller automatically in one neat and concise format.
New Listing emails are a hit with our staff too. The staff loves their dashboards. It points out events that have occurred and "to-dos" for them to handle—most with just one or two clicks. 
"My Customer for Life" is beneficial for keeping sales associates top-of-mind with their clients. We love how the articles adapt to user interaction and are shared to the associate's Facebook page too. It's great to have content--good content, that is generated for them, all the while driving traffic to their websites.
How has Old Dominion Realty's use of the Pipeline Manager helped recruit new sales associates?
We can offer them so much more than other competing firms with the tools and automation offered by Pipeline Manager in the DeltaNet®. It's a system that truly works for the sales associate.
What would you tell other real estate companies interested in using Delta Media Group's Pipeline Manager/CRM system?
After seeing it in action, the best reasons to use the Pipeline Manager are to strengthen your sales associates' relationships with their clients, keep your sales associates organized and their pipeline of leads and referrals filled, build and grow their brand, and relieve the stresses placed on them as sales associates. 
What is the most significant change you've seen in your sales associates who use our Pipeline Manager/CRM system regularly?
I've noticed our sales associates stay in better touch with former clients, are more productive, have increased production and sales numbers, feel less overwhelmed managing their customer relationships, and have a better handle on promoting their brand.
Pipeline Manager has helped us retain our current team of sales associates at Old Dominion Realty, plus recruit new members. It has helped increase our company's overall revenue.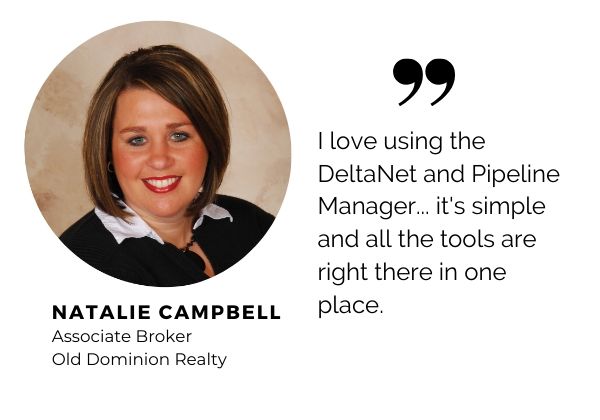 Natalie Campbell, Associate Broker from Old Dominion Realty, shared her thoughts about using the Pipeline Manager, "I love using DeltaNet® and Pipeline Manager… it's simple to use and all the tools are right there in one place. I have one login for everything I need. It is updated with new designs and upgraded features constantly."