At the time of writing this article, there is a major hot-button issue happening in Florida.
Hundreds, if not thousands, of real estate brokerages were served letters threatening legal action because their real estate websites were not FHA/ADA Compliant. This was all triggered due to the Robles v Domino's Pizza, LLC case last November, where it was ruled that financial compensation was owed to Guillermo Robles as he could not order a pizza through Domino's website, which was not built to be accessible for the vision-impaired.
There is a multitude of reasons why you want your website to comply. First of all, it's just the right thing to do. It would be best if you wanted your site to be accessible for all people, including those with disabilities. Many visually impaired people can use "screen readers" to navigate websites online, and your website must be put together in such a way that supports that type of software.
Another significant benefit of having a website that is ADA compliant, outside of the legal element, is your overall SEO. Whenever Search Engine Optimization comes into the picture, many people view it as smoke and mirrors and aren't sure what to do to get a website to perform well. It's more than just throwing some meta tags on a webpage. There is a myriad of moving pieces and factors that affect how Google, Bing, and the other search engines are going to rank your website. One of those elements is the "accessibility" of your website.
So we know it's essential to make your website fully accessible, but where do you begin? My first recommendation would be to run two different tests on your website and start compiling the internal pages, such as search results pages, listing detail pages, and more. You want the entire site to be accessible, not just the homepage. For many of our clients, the homepage accounts for less than 30% of the overall page views.
FIRST: If you are using Google Chrome and have the most up to date browser version, you can take advantage of Google's built-in "Lighthouse" tool. To use this feature, go to any website you'd like to audit on Google Chrome and right-click somewhere on the page. One of the options, once you've clicked, will say "inspect." Clicking the inspect button will bring up some tools on the right side of the page, at the very top right corner will be a button saying,">>." Clicking that will open a list of options, one of which is "Lighthouse." Now all you need to do is click the "Generate Report" button, and Googles tool will do a full scan of your homepage and compile a set of scores.
The Lighthouse Audit will show you five different results.
Performance
Accessibility
Best Practices
SEO
Progressive Web App


These are some of the main factors that affect your website's ranking in Google. They want to send traffic to sites that perform well, are accessible, follow the web's best practices for design, are easily crawlable by their robots, and utilize their PWA technology. For this article, we'll focus on the accessibility score, but please keep in mind that you want all five scores to be in the "green." While you are looking at the report, you will want to save the report Google has compiled, which will tell you precisely the elements on the webpage that need fixing, and start putting them together in a folder that you'll share with your website vendor. You'll want to run this lighthouse report on your website's major pages and submit it for review.
SECOND: The other tool built specifically for website accessibility testing is the "WAVE Web Accessibility Tool." You can find this tool by going to wave. webaim.org or simply searching "WAVE web tool" in any search engine. On this page, you will want to plug in the website domain of whatever page you want to be audited. The tool will then build a very detailed report showing you where you have contrast errors, missing alternative text, and more on the web page. It's always a good idea to test multiple pages and again, export the reports and share it with your vendor.
You should be able to submit these reports as tickets to your website vendor and work with you to get the site back in compliance. At Delta Media Group, we have been paying attention to ADA Compliance for years, and regularly audit our own websites. When our Florida-based brokerages started receiving these threatening letters from attorneys, we immediately conducted audits on all of our clients to make sure we were still in the clear. It was a great opportunity to go back through some of our older website designs and offer free upgrades to new, compliant designs.
LASTLY, there are two other factors you may want to have your vendor add to your website. If you do not already have a "Fair Housing Statement" or "Accessibility Statement" on your website, you should ask for those to be added to your site. If you are a member of the National Association of REALTORS®, you can go to their website (nar.realtor) and scroll down to their website's footer and click the "Accessibility" link to review what they have built on their site. They have made that text free to use by any member on their website, so you could copy their text and add it to your website. This goes a long way in the eyes of the law, as it shows you are making a good faith effort to make your site usable by everybody.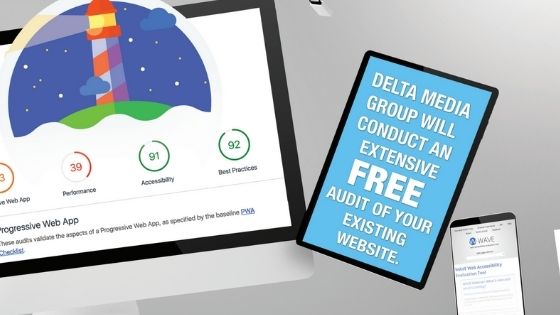 If you are an existing Delta Media Group client, you can contact us at any time to review your website. If you are not a current Delta Media Group client, we are more than happy to conduct an extensive audit free of charge of your existing website. We scan for things such as accessibility scores if your site is GDPR compliant, the overall SEO value of your website, and more.
Contact me for a free audit of your website: sales@deltagroup.com.