Virtual open houses have become the norm in real estate markets across the country, allowing clients to practice social distancing while still marketing their property or shopping for their next home. As communities reopen, many clients prefer the safety, security, and convenience of virtual open houses. As all top-performing sales associates know, adapting to an ever-changing industry is key to success in real estate. So now is the time to make sure that you're bringing your "A" game with virtual open houses, and we've got some tips to help you do just that.
Why Virtual Open Houses Are Great Tools for Sales Associates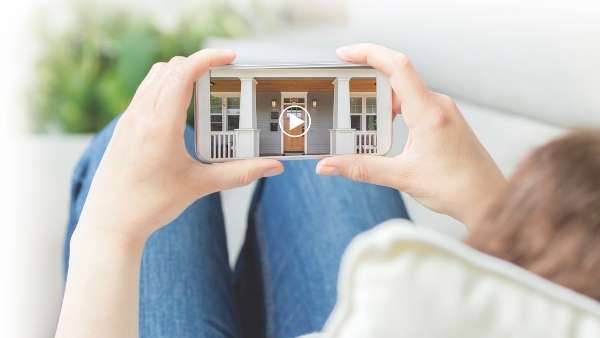 Even before social distancing became the norm, virtual tours, and open houses were valuable tools for reaching buyers without worrying about geography. Buyers want to see the most homes in the neighborhoods where they're shopping, and sellers want their property seen by as many serious buyers as possible to generate the best offers. A virtual open house allows you to reach any buyer, anywhere, as long as they have an internet connection. In addition to putting a spotlight on your listings, virtual open houses allow you to demonstrate your real estate expertise to everyone watching.
Get Familiar with Virtual Open House Platforms
Before you host a virtual open house, it's essential to get familiar with the technology that you'll be using. That includes the platform that is hosting your open house, whether that's Facebook, Instagram, Google Hangouts, Zoom, or any other platform that is available to you. Take the time to learn how the details of your preferred platform work, and test your platform to make sure you're ready when it's time to go live.
Promote Your Virtual Open Houses in Advance
Just like with a traditional open house, getting the word out about your virtual open house is a crucial step to success. The more people who know about your virtual open house, the larger your audience will be. Always promote virtual open houses on your website and social media pages in advance. Whenever you promote a virtual open house, make sure you prominently mention the date, time, platform, and any other info audience members will need to tune in.
Scout the Home and Prepare Your Talking Points
Before a virtual open house, walk through the home and look at each room in detail. What are the most prominent features of the home, which areas do you want to highlight during your tour, how will you progress through the home, and what are some things that you can point out about each room? While fully scripting a virtual open house can make the process look unnatural on-screen, preparing basic talking points that you can expand upon ad-lib is a great way to go.
Arrive Early to Prepare on the Day of a Virtual Open House
On the day of your virtual open house, always arrive early to test your technology, refresh yourself on the home's features, and prepare for your time on camera. Make sure that the home is well-lit, and that the settings on your camera produce a clear, crisp picture for your audience.
Take Your Time as You Tour the Home
Remember that many of the buyers in your audience may be unable to tour the home in person, so they want to see as much detail as possible. Take your time as you move through each room, and highlight all of the areas that buyers care about most.
Using an Interactive Platform? Be Sure to Answer Audience Questions
If you're using a platform that allows audience members to post questions, be sure to keep an eye out for good ones. Answering questions is a great way to generate engagement with your audience and can help buyers decide whether the home is right for them.
Repurpose Virtual Open Houses for Clients Who Missed the Live Event
While virtual open houses offer great convenience, not all buyers may be able to log on for the live event. Fortunately, you can repurpose your virtual open houses as virtual tours after the fact, so that all buyers can see the home at a time that works for them.
Whether you're already comfortable behind the camera or you're new to virtual open houses, all top performers know how to handle a traditional open house. Many of those same skills carry over to hosting a virtual open house, and your real estate expertise should play just as well on camera as it does in person with a little practice. Preparation is the key to success, both in terms of getting familiar with the technology involved and planning for how you will present each home.