The digital house hunt is becoming a fundamental part of American life. The National Association of REALTORS® (NAR) Research Group has tracked digital homebuying trends for years. Not surprisingly, they've discovered that more people are looking online first when they want to find the perfect new home.
NAR's Real Estate in a Digital Age 2019 Report states 44% of buyers looked for a home online first. The younger the buyer, the more likely they were to turn to digital technology first or even exclusively compared to their elders.
In fact, 98% of older Millennials (born 1980-1989) used the internet in their search.
There are two huge factors driving this, and neither one is going to change: Younger buyers are comfortable using digital technology to make informed decisions.
Smartphones and other mobile devices are now used in every aspect of life.
About 76% of all buyers surveyed found their new home using their favorite mobile device. That makes a lot of sense when you consider more than 80% of American adults own a smartphone.
What's the lesson for sales associates who want to excel in today's digital landscape?
It's simple: You need an amazing real estate website.
A Website is "More Than Just a Pretty Face" for Your Listings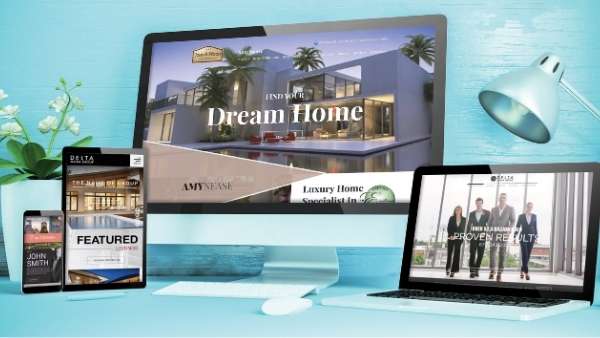 When it comes to your real estate brand, your website is your online first impression.
Most of your future clients have never heard of you. They go online to look at listings first and think about sales associates second. A terrific real estate website is how they make that choice.
In many ways, your website is your brand. And it can be your second most powerful asset.
(Behind yourself, of course!)
You completely control your website, so it can reflect your unique personality. You have the chance to introduce yourself and establish what makes you stand out in your market.
And, of course, every lead your website attracts is your own.
Your website is your digital "home base." It's the place people come back to again and again, and it's where they'll send their friends and family as referral business. Done right, it can also be fully integrated into your marketing automation strategy, saving you hundreds of hours a year.
Every other method of promoting your practice, from social media to email marketing, either starts at your website or benefits from it tremendously.
But let's face it: Not all websites are successful. This goes double in real estate, where how the site looks and performs can cement a prospect's ideas about you in a few seconds of browsing.
You don't need just any website. You need a modern, technologically sound site that makes you look like the expert you are. The best way to do that is to see things from the client's perspective.
What Your Clients Look For From a Dynamite Real Estate Website
A website has two audiences: You and your clients.
(Yes, your peers could be looking on in envy. But let's stick to growing your business.)
FOR YOU:
Your site needs to give you the flexibility and power to serve as a hub for all of your digital marketing efforts. It needs to be easy to work with, so you don't fall out of the habit of keeping it updated. It needs to be automation-friendly. And, ideally, you should feel a sense of satisfaction and accomplishment when you see how well it represents you.
FOR CLIENTS:
Clients come to your site looking for information on local listings, so those are a must. But your site must also introduce you and build trust. That means having plenty of content that helps clients work through their needs, worries, and challenges. It also means making sure the site is simple to navigate, fast, responsive, and has plenty of ways to contact you.
That might seem like a tall order. When delving into the most powerful real estate websites for sales associates and firms of all sizes, there are important trends that light the way.
If you're diving into digital marketing for the first time, it can be helpful to think of your site as a collection of features that all work together. Each feature provides a service you or clients want.
You might not know how everything works under the hood ... but you don't need to.
As long as you're thinking about how real people use your site and their needs, you're on the right track. Here are a few of the things that experience shows real estate clients are looking for:
YOUR LOCAL REAL ESTATE LISTINGS
To the old favorite "location, location, location," we would like to add: Listings, listings, listings! They're what most of your prospects are eager to see – all your other content comes later. So, be sure all of your active listings are showcased on your website. Just as crucial, be sure there's a sign-up form right on the page so prospects can request more details immediately.
YOUR REAL ESTATE BLOG
A real estate blog is indispensable for digital marketing. It helps you establish your credentials as a true expert who knows the local area inside and out. It can also smooth the path to a sale by helping prospects self-educate, address their worries, and figure out their needs. Each blog post should offer something enticing, like a local market report, in exchange for a prospect's email.
YOUR SOCIAL MEDIA PRESENCE
You're on social media ... now what? Sales associates are among the most active professionals on social media, so you have to post consistently to avoid being drowned out. Integrating social media with your website makes the site look more active and current. Plus, it can encourage your prospects to message you right away to ask their burning questions.
THE BEST WAY TO CONTACT YOU
The name of the game in client contact is omnichannel. That means being reachable by social media as well as email and click-to-call. Some real estate websites have integrated calendars where your prospect can schedule their own appointment. Whatever you choose, though, make sure your technology is working seamlessly so you can respond to requests fast.
FAST AND RESPONSIVE WEB VIEWING
It only takes about one second of delay for users to wonder if a website is working correctly. A fast website is critical for keeping attention focused. Likewise, your site should use a responsive design. That means navigational elements and visuals automatically resize, so they're easy to use on any device: A desktop, laptop, smartphone, tablet, or anything else.
USEFUL INFORMATION ABOUT YOU
A website isn't just an interactive brochure, of course – but your personality should still shine through. Everything from the domain name you choose to the color scheme to the photos will help communicate who you are. A biography is a must (use "I" and "me" instead of stuffy third person), and if you are up to the challenge, a video introduction is even better.
A website is no longer an add-on to your real estate brand: It's the centerpiece. Think of it as your own "online home" and always be looking for ways to make it even better. With the right level of consistency and commitment, you'll turn it into a valuable lead engine for your business.